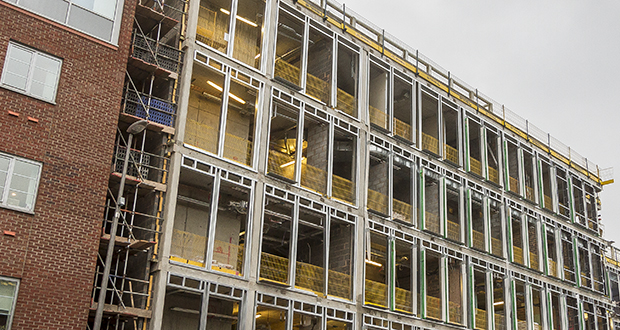 Commercial Property Expertise
ULS Property is a boutique Property legal practice situated in Altrincham, Cheshire, close to Manchester Airport. Equipped with London-trained solicitors, ULS Property offers a highly skilled team for your specific commercial property needs, whether relating to conveyancing, development work, commercial leases, or short-term funding.
Call us today on: 0161 710 2030
Daniella Lipszyc
Daniella is the Firm's managing partner. She is a respected commercial and property litigation solicitor. She has a reputation for her formidable and feared approach as a litigator, whilst exercising commercial pragmatism. Daniella, who was previously a finalist in the "Business Woman of the Year", is regularly asked for comments from TV and in the National Press.
Daniella has been described by the Telegraph and the Independent as an expert in the Consumer Credit Act and regularly advises lenders as to the revised regulations and upcoming developments in credit matters.
She describes the mission statement of ULS as "speed through experience".
Daniella's main focus is property litigation, dealing with the realisation of property assets from defaulting borrowers. Her work involves LPA appointments, bankruptcies, repossessions as well as more traditional ADR.

Mark Benjamin
Mark brings to his role over two decades worth of experience gained at such firms as Nabarro and Cobbetts.
Originally based in London, Mark relocated to Manchester, becoming a partner in Cobbetts' Manchester office.
Mark has acted for a broad spectrum of clients including hotel chains, national retailers, banks, builders and commercial lenders.
He has been called upon to undertake more unusual property transactions, such as the lease of a PGA Championship golf course.
He is actively involved in property finance, acting for lenders, investors, property developers and high net worth individuals.

Anthony Boon
Tony is a former Partner of Haliwells with over two decades of property and insolvency experience.
He adopts a firm but fair approach to his property and insolvency work. His varied experience reflects changes to the property market in an ever-changing market sector.
Anthony's extensive knowledge ranges from the sales & purchases of commercial property to complex landlord and tenant work. He has also undertaken extensive work in the property finance sector, having acted for many main stream banks as well as short-term lenders.
He is also an experienced property insolvency solicitor, have been involved all all aspects of insolvency – Administrations, Administrative Receiverships, LPA Receiverships, Liquidations and CVAs. Anthony also deals with the property aspects of bankruptcies and IVAs.

Paul Bellis
Paul was previously Head of Private Client work (including, Property, Wills, Probate and Trusts) at HCB Widdows Mason, before joining ULS.
Paul compliments other members of the property team through his specialist skills gained from probate and trust work and due to his extensive experience in other areas (including residential, commercial leases, business sales and acquisitions) to enable more complicated transactions to proceed smoothly and efficiently.
He acts for private clients with complex property portfolios. One such recent transaction involved the purchase of land which is to be reclaimed for property development.
Paul also acts for short term lenders dealing with loan origination. He is often lenders' solicitor of choice, for dealing with more complex borrowing scenarios involving probate and trusts.
He has a reassuring style that reflects his professionalism and dedication.

Anthony Sultan
Anthony is a director of the Firm, which he co-founded in 2008.
He is a graduate of London School of Economics and Manchester Business School. Before qualifying as a lawyer, Anthony held a number of board roles within high profile SMEs.
This experience enables Anthony to provide a very commercial approach to finance and the law, giving pragmatic rather than theoretical advice to clients.
Anthony concentrates on property finance, representing a number of secured lenders, particularly within the bridging sector, dealing with loan origination and securitisation through to property enforcement, including repossessions and appointment of LPA Receivers.
Anthony is also responsible for the Firm's loan management outsource services, working closely with lenders to achieve a successful exit by managing loans through their full lifecycle.

Sophia Kirkham
Sophia heads up the redemption team. Her previous experience in litigation of debt-related matters enables her to understand the importance of slick processes to both lender and borrower.
Since many lenders choose to outsource their redemption work to ULS, Sophia deals with the redemption of loans originated by other panel solicitors as well as ULS-originated loans.
ULS's streamlined processes are recognized within the sector as being fast, efficient and cost effective.

Caroline Barton
Caroline joined the firm in 2008, as practice manager, having previously worked in management at Marks and Spencer's Human Resources department. She is responsible for ULS case management systems and the implementation of templates and processes in accordance with client procedures/ general instructions. Caroline also oversees the firm's legal secretarial team.

Jill Campbell
Jill joined the firm in 2008 as the senior legal secretary to the property department, supporting the department's senior fee-earners. Proficient in the use of case handling software as well as Office products, Jill provides capable and outstanding administrative support, understanding the importance of attention to detail and swift processing.

Iwona Papierowska
Iwona, who joined the company 5 years ago, is the Firm's Legal Cashier. She is responsible for the daily processing of financial transactions relating to property and loan transactions including the prompt repayment of capital to individual or syndicated funders upon the redemption of loans.